You have just picked the deal of a lifetime. You are going to fall in love with all the extravagant features of Extempore!
I can't wait to see the success you are going to have with Extempore because it makes creating high-quality videos easier than anything you've ever seen.
One of the best ways to use Extempore is to sell to both local and online businesses.
We have made it easy with scripts that they can just plug-in, record, and use immediately.
Before getting started, I thought of showing you how to manage your clients
using Extempore.
I have put together this exclusive offer for hustlers like you!
Let's take a look at how you can bring in monthly profits with Extempore Agency so you have multiple clients paying you month after month and with Extempore Agency we can help you streamline that to be super efficient.
In the past whenever we have offered Agency rights to our customers, they have literally made multiple six figures from just using the Agency Rights. I see no reason why it can't be you!
The Extempore Agency license will help you multiply your profits and make the most out of your purchase.
Let me show you the power of Extempore Agency!
When you are an Agency Holder you can assign specific stories to your clients.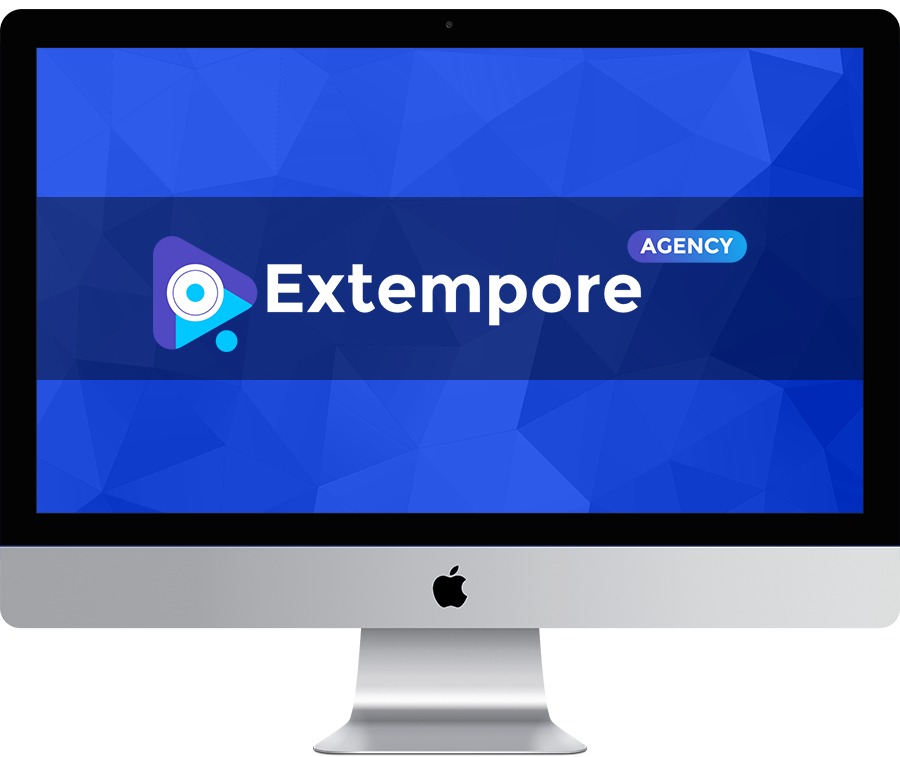 What will they be able to do?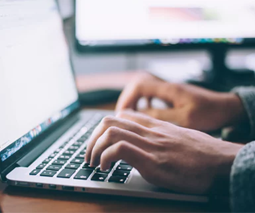 They can create & edit stories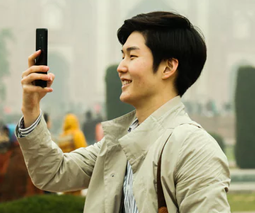 They can record Videos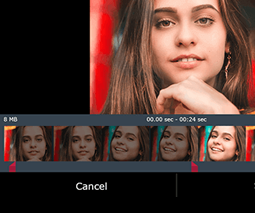 They can do advanced editing
with Pro Version
Extempore Agency creates the possibility to work with global clients.
Your clients can be in any corner of the world. You can still manage to do a video project for them.
This is especially useful when your clients want to be the face of the video!
You don't have to keep mailing multiple versions of the script. You can simply load the script which can be checked through the App. They can edit as needed from the App.
They can shoot videos directly from their Smartphone.
They can edit the videos too if you have an Extempore pro license or choose to leave the editing part to you!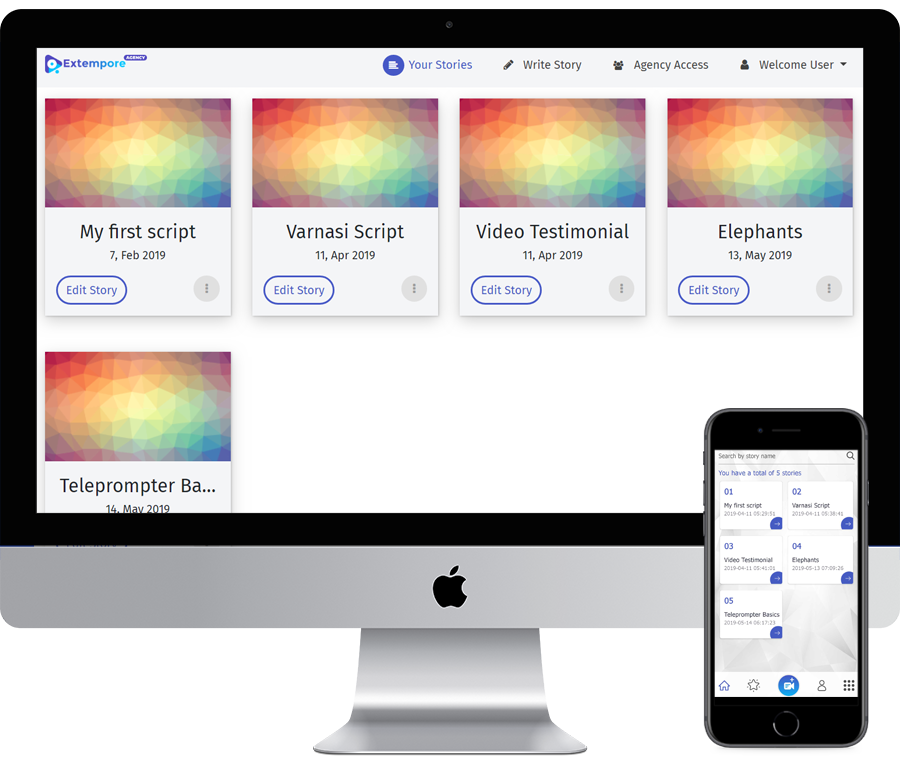 If you want to create a ton of happy customers then this is an amazing opportunity.
You can create flawless videos of your clients who have
never appeared before the camera effortlessly!
Even a client on the other side of the world can shoot videos
which you can customize and sell!
Now, once you've got them over that hurdle of creating a perfect video for their business, then you are in an incredible position to sell them more of your products and services.
This is the power of Extempore Agency.
You can manage up to 25 clients at the same time using the Extempore Agency!
Extempore was created with the idea to put everything about Video creation & Marketing into a Smartphone and make it simple and easy for anyone to create high-quality videos and get their message right the first time.
We didn't stop with creating and editing videos. We also want you to manage clients using Extempore Agency making it a complete Video Marketing Solution!
Make the profits you deserve using Extempore Agency! Don't settle for anything less when you have the potential!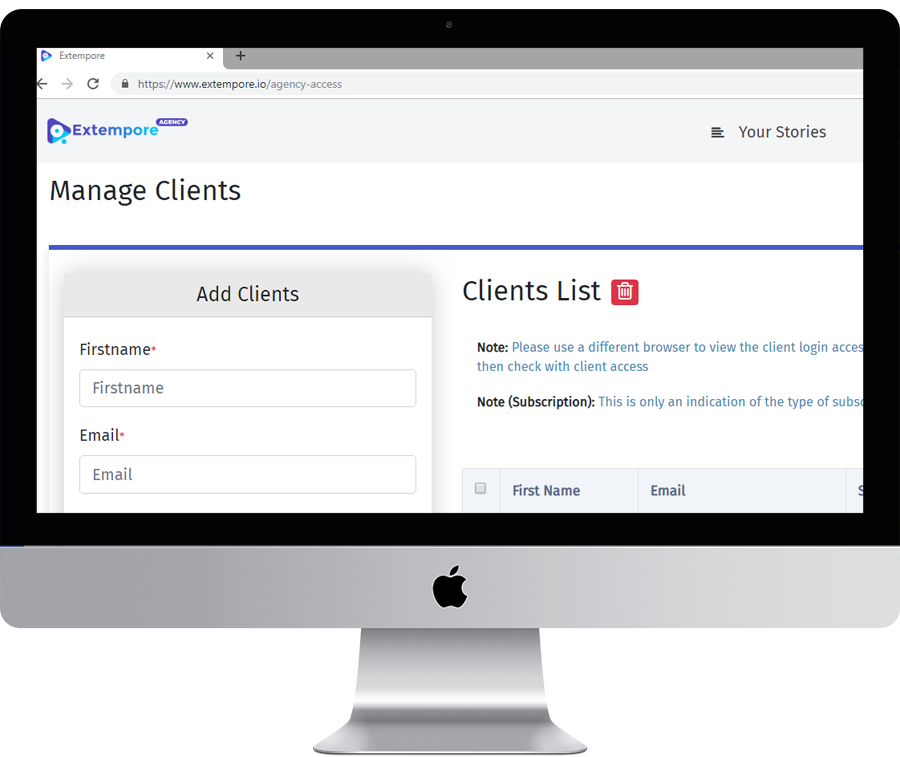 Save time

Save Efforts

Save Money

Get happy Clients

Get more Business
Hurry up to grab this one-time opportunity Can you believe you don't have to pay a recurring fee to grab this offer?
All you need to do is buy it with a small one-time fee. When you look at the turn-key service you can offer your clients with Extempore Agency and with our proven scripts - this is a simple business you can start to streamline almost immediately. You don't have to worry a bit as we are backing your purchase with a 30-day no questions asked money back guarantee!
Frequently Asked Questions
What are all the features I will get with this Agency version?
An agency user can assign clients to the stories and can add a maximum of 25 clients to manage their video projects.
What is this Agency Version For?
With this Agency Level Access, you are provided the rights to offer Video Creation & Editing services to your clients using Extempore. Agency holders often charge between $250 to $5k per video they provide their clients. As you can see, you can easily make your investment back in no time.
How does the Agency license work?
With your Agency license, you can create and assign stories to your clients.Your clients can edit stories & record multiple takes. If you own a pro copy of Extempore, your clients can also do all the advanced editing.
What version of Extempore will my clients have?
That depends on what version of Extempore you have. If you have the Commercial Version of Extempore, your clients will also have the Commercial Version except that they can only access the stories they have been assigned.If you have the Pro Version, your clients will also have all the Pro features.
How many clients can I add?
You can add a maximum of 25 clients. For every additional client more than 25 clients, you can reach out to our support desk and we will work on a pricing for you depending on your requirement.
How long is this offer valid?
This is a very limited offer that we are offering only until the timer expires.
How many stories can my clients create with the Agency Version?
Your clients cannot create new stories. They can only work on the stories you have assigned them.